Viivi Avellanin is a reporter for "Nelonen" TV in Finland. On Radio Rockin' she said she loves blond, Aryan-looking Finnish men. How dare a journalist ever be honest? Doesn't she get it?
(translation from Finnish today by the valiant young comrade, and my friend, Henrik Holappa)
=============
Viivii lipsautteli rasistisia kommentteja"Viivii's racist commentary"
Viivi Avellán: "I prefer the Aryan type of man over dark-skinned Southern types."
Viivi Avellán, a Finnish journalist who has worked for the TV channel Nelonen was interviewed by Radio Rockin' on the Wednesday morning show. Avellán said on the live radio broadcast:
Quote:
---
"I like more the Aryan-type men. Dark-skinned men and others of that southern sort don't attract me."
---
In the Radio Rockin' interview she gave a commentary about her interview in a tabloid newspaper ltasanomat last week, which expressed some racist views. In her interview in the newspaper she said she loved Finnish men and "the Aryan way of life."
Top that, Jews. Nah, don't even waste your time; we Aryans have the most luscious babes in the world. iSU-o-mii (accent on that first syllable) is the true word in Finnish for "Finland," their spotless, efficient, snowy Nordic nation of lakes-and-pines(-and-summer-mosquitoes laugh). Many Finns also live in Minnesota and the Upper Peninsula of Michigan (gotta have that cold! laugh)– but other babes and hunks from Finland have moved to near Ft. LauderdaleLake Worth, Florida. I knew a few. "Hot" but also Honest and Hard-working, too — by tradition, Lutheran.
She said on the radio show, "That maybe came out a little bit wrong. I used the wrong term about the 'Aryan way of life.' But I like Aryan-type men rather than brown or Southerners. I like Finnish men… or from no further south than Berlin northern Germany." The radio journalists were amazed at her statements and asked if she was a racist. Avellán denied she was a racist, claiming it was only a case of what sort of men she personally liked — and when she described them with the word "Aryan," she "just was not thinking that much." Later Avellán apologised if her statements insulted some people.
[JdN: Which "people"?]
===============
Not only Finland has Nordic beauties. . . . don't forget neighboring Russia, with 120 million white people, the second-most populous white nation on earth after America!
=============
"And now as Monty Python would say for something completely different."
The Jewish-American-Princess ideal of beauty. I knew a very nice, helpful Jewish therapist, but when he told me he idolized Sarah Silverman, I knew: "Never the twain shall meet" (from the phrase in "The Ballad of East and West," a poem by Rudyard Kipling; "twain" means "two things" from the Anglo-Saxon word twegn).
[warning: very loathsome Hebrew image; come gently first off your Nordic cloud back to reality]
bComedienne Sarah Silverman, recently renewed for another year on Comedy Central.b
TONIGHT, AGAIN, THE JOHN DE NUGENT SHOW ON REASONRADIONETWORK.COM! Special guest: "Dietrich," co-creator (with Croatian Mishko Novosel) of the new "Voice of Reason" radio network. Dietrich, on a NEAR-zero budget, has put together an exciting, sophisticated website and a new sound transmission system — to bring you great white talk and music, fun, laughs and serious discussion (and with every passing week less and less of the low-budget start-up glitches laugh). Every weekday evening, radio veteran Peter Schaenk's show entertains and instructs from 7-9 pm EDT. On my own fifth radio show (I've been on MSM radio many times), Dietrich and I (plus a possible second guest) will be discussing the new network and the birth pangs of launching it.b Many fantasize about "going into radio' or "doing some films." Dietrich has made this radio network possible. Tune in (or zombie out on your emails frown) — tonight, 9-10 pm, Eastern Daylight time,( US East Coast, 6 pm Pacific), on www.reasonradionetwork.com. (Click on "Listen Live." Later, the show will be on archives.) Tonight's show is dedicated to our white sister, Corporal Maria Lauterbach, USMC, murdered in January by a Mexican psychopath who then fled back insolently to his native May-hee-ko.
.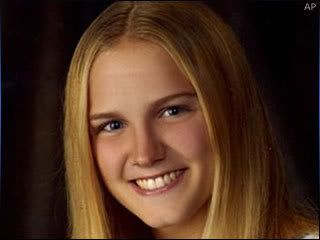 Already forgotten by the Jewsmedia — another beautiful white girl who resisted the advances of, and was raped and then killed by an enraged, racist non-white. ReasonRadioNetwork serves to remind us Aryans of our ties of blood and solidarity with all white kinfolk worldwide. Tune in!